Start your day right with
the Oclean toothbrush
Your smile says a lot about you. In fact, it speaks the one true universal language that all people share: the language of joy, love, and friendship. Even today, among a proliferation of grinning Internet emoji, our physical smile continues to be an important tool for communicating our personal story and connecting us to the world we live in.
Oclean was founded to provide people with thoughtful technology to help them get the most out of their smile, and take advantage of a world of opportunities just waiting to be unlocked by a confident, friendly face.

Vision
E
mpower a healthier life and a brighter smile
Mission
Improve your oral health with innovative technology
Core Value
Innovative Considerate Cooperative Sharing
From its curvy "C" smile to the delightful "O" laugh,
the Oclean logo illustrates our commitment to helping you smile brighter.
Award-Winning Design Team
Red Dot and iF Design Awards(2018),Good Design Award(2019),iF Design Award(2020),Excellent products of Oclean have won a series of international design awards.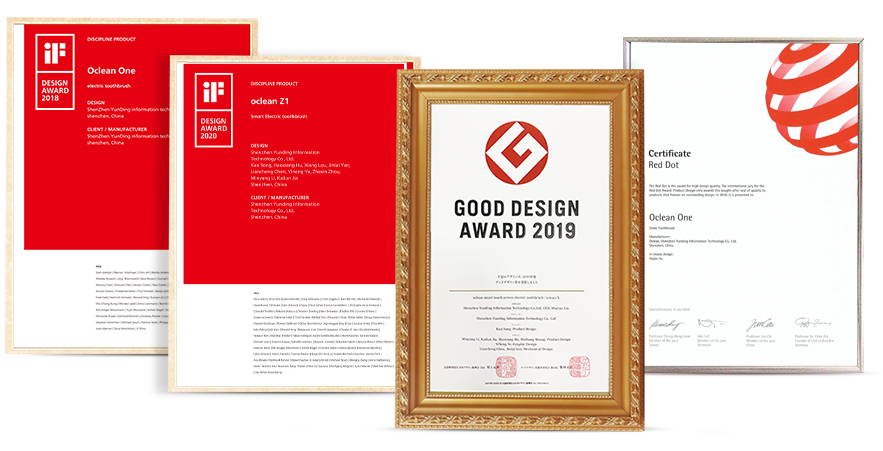 Toothbrush with a variety of advanced and innovative technology
Independently developed a new generation of Magnetic Brushless Motor.Torsion: 280gf.cm; Swing: 5.5mm; Vibration Frequency up to 42000times/min,High-frequency vibration can effectively clean the tooth plaque so as to improve the health of the gums.